Heather Barnett trial: Children 'found mutilated mother'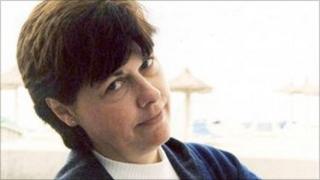 A jury has heard how a teenage boy and his 11-year-old sister found their mother's mutilated body when they returned home from school.
Terry Marsh was 14 when he gave a video interview to police after finding his mother Heather Barnett dead in her flat in Bournemouth, Dorset, in 2002.
She had been mutilated and had a lock of someone's hair in her hand, Winchester Crown Court has heard.
Danilo Restivo 39, of Chatsworth Road, Bournemouth, denies murder.
Mrs Barnett's son, Terry, told officers that he and sister Caitlin arrived home just before 1600 BST on 12 November, 2002, expecting to see their mother at home but the ground floor flat was in silence.
"My sister started calling out and there was no answer," he said.
'Mum's been murdered'
"It was at that moment, when the house was silent, then I thought something's wrong here - nothing visually just quiet."
Terry said in the interview that he went into his bedroom and took his school clothes off and his sister asked "where is she then?"
Caitlin then went to the closed bathroom door and knocked but there was no reply, so she opened it a little and Terry said she went "absolutely ballistic" when she saw her mother lying on the floor dead, jurors heard.
"I went into the bathroom. I just opened the door halfway. I saw her lying on her back with blood. I saw blood absolutely everywhere and I thought 'oh no'.
"When I saw the blood I thought this ain't no accident," the court heard.
He told the 999 operator he wanted both the police and ambulance because his "mum's been murdered".
Both children went outside and were "comforted" by the defendant Mr Restivo and his then girlfriend Fiamma Marsango, jurors were told.
The court has heard claims that Mr Restivo has a hair fetish and murdered and mutilated the seamstress with the same "hallmark" method used to kill a teenager in Italy.
Mr Restivo is alleged to have entered the flat and bludgeoned Mrs Barnett with a hammer before cutting her throat.
He then mutilated her body, and left a clump of someone else's hair in her right hand and some of her own underneath her left hand, the court was told.
The jury was told the manner in which Mrs Barnett was murdered could be considered Mr Restivo's "hallmark" and linked the killing to the murder of 16-year-old Elisa Claps in Potenza, Italy, in 1993.
Michael Bowes QC, prosecuting, explained that Mr Restivo, who then lived in Potenza, had arranged to meet Miss Claps at the Most Holy Trinity Church on 12 September, 1993.
The teenager was never seen again and her body was discovered in a loft of the church last year.
The trial continues.