Qianlong Chinese art expected to fetch £1m in Dorset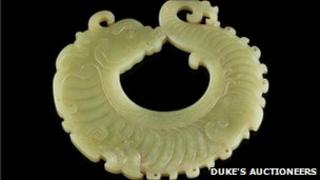 A collection of Chinese works of art kept at the back of a Dorset family's cabinet is expected to fetch £1m at auction in Dorchester on Thursday.
The 18th Century mainly jade objects are being sold at Duke's Auctioneers after being found in Bournemouth.
They were originally kept at the Summer Palace in what was Peking, China.
It is believed they were made for Emperor Qianlong and acquired by Capt James Gunter, following the looting of the palace in 1860.
The objects include a yellow jade dragon pendant carved in the 'archaistic' style, a tiny white jade cup and saucer carved with stags and two white jade vases.
The lot also includes a watch which it is thought was presented to the emperor from King George III.
'Stunned by quality'
Guy Schwinge, from Duke's, said: "I was stunned by the quality and number of pieces of jade that emerged from the cabinet. I felt the hairs on the back of my neck stand up."
He added that the Chinese market was currently so strong that objects were being "furiously fought over" by the newly rich elite, in the communist regime, who want to buy back their heritage.
The owners are not thought to be direct descendants of Capt Gunter.
The Summer Palace, known in China as The Gardens of Perfect Brightness, or Yuan Ming Yuan, was a complex of palaces and gardens in Peking - now Beijing.
It is located five miles north west of the walls of the Imperial City and it is where the Emperors of the Qing Dynasty - including Qianlong - lived and handled government affairs.
It was raided by an Anglo-French force in 1860.