Bournemouth bids for Queen's Jubilee city status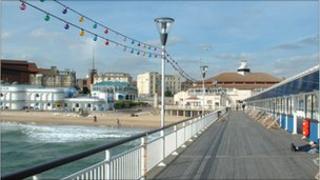 Bournemouth will bid for city status in a competition to mark the Queen's Diamond Jubilee next year, a Dorset council has announced.
The government said towns bidding for city status should be "vibrant, welcoming communities".
The deadline for bids is Friday, with only one new city expected to be chosen early next year.
Pam Donnellan, chief executive of the borough council, said Bournemouth has a "strong case".
'Bold ambitions'
"Bournemouth is a successful, well established vibrant town with bold ambitions for our future," she added.
"We have a rich history and enjoy a diverse culture, an international reputation and strong economy.
"Previous winners have reported a boost in investment in their city, a rise in jobs, improved profile and reputation, and an increase in their opportunity to bid for additional and external sources of funding.
"Submitting a bid for city status is low cost, but the return from a successful bid would be immense."
Bournemouth did not enter the last city status competition to mark the Queen's Golden Jubilee in 2002. Poole entered but was unsuccessful.
A spokesperson from the Borough of Poole said it will not bid to become a city on this occasion.
Bournemouth would become the first city in Dorset if granted city status in 2012.
Other towns competing for city status include Luton, Milton Keynes, Middlesbrough, Medway, Reading, Bolton, Swindon, Chelmsford, Stockport, Perth, Gateshead, Ballymena, Guildford, Southend-on-sea, Ipswich, Wrexham, Croydon and St Austell.