Dorset students recreate model of Hitler's head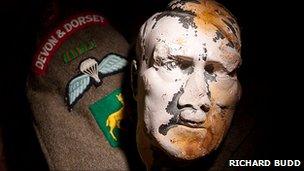 A model of Adolf Hitler's head which was dug up in Berlin in 1986 and hung above a regimental bar for 25 years is to be recreated by Dorset students.
The plaster cast was found by members of the Devon and Dorset regiment when they were stationed in West Germany.
The bust - a common sight in Nazi Germany - has since suffered damage and part of its nose is missing.
A museum is teaming up with students to recreate the head as it would have looked when it was first made.
The project, involving local colleges, should take about six months to complete.
Weymouth College, Bournemouth and Poole College and Bournemouth University are participating.
Computer students will create a 3D model of how the head would have looked, which will then be cast into a replica.
The end result will be displayed alongside the original in The Keep, the Military Museum of Devon and Dorset.
It will sit on Hitler's desk from the Chancellery in Berlin.
Colin Parr, the museum's archivist, said "It's quite a strange object and one which may well have stood outside the barracks in Berlin during World War Two.
"We want to display it but we'd also like to create an undamaged replica.
"The side of the face has been knocked off, it was either hit by a spade when it was unearthed or perhaps someone decided to knock it off its perch in 1945."
The but was hung behind a bar in the Sergeant's mess until 2007 when the regiment was amalgamated into The Rifles.
Major Don Jellard, who gave the head to the museum, said: "You always respect your foe.
"And if you're looking at your foe - whether he's past or present - it focuses you.
"And we've always had that sort of sense of humour which is not understood by very many other people other than the British".
Related Internet Links
The BBC is not responsible for the content of external sites.