Heather Barnett trial: Jury shown murder accused's home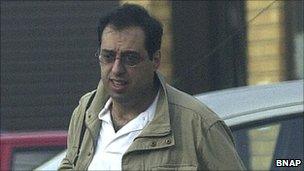 The jury in the trial of a man accused of murdering a mother of two spent the day visiting locations in and around Bournemouth, where she was killed.
Danilo Restivo denies murdering 48-year-old Heather Barnett in the Dorset town in 2002.
The jury was taken to the house where Mr Restivo lived and to the flat where Miss Barnett lived opposite.
Ms Barnett's body was found by her children in her home with a clump of someone else's hair in her hand.
On Wednesday, Winchester Crown Court heard Mr Restivo was the subject of a police surveillance operation and when he was searched by police in 2004 a knife, gloves and a balaclava was found.
The jury was also taken to a secluded piece of land, between Throop Mill and Pig Shoot Lane on the outskirts of Bournemouth, where the surveillance operation had taken place.
They were shown the car park where Mr Restivo was searched and the paths where he was secretly watched wandering around for hours at a time.
Mr Restivo is alleged to have entered Ms Barnett's flat and bludgeoned her with a hammer before cutting her throat.
The prosecution says Mr Restivo has a hair fetish and left a clump of someone else's hair in Ms Barnett's right hand and some of her hair under her left hand.
Prosecutors say the manner in which Ms Barnett was murdered can be considered Mr Restivo's "hallmark", and have linked the killing to the murder of a teenager, 16-year-old Elisa Claps, in Potenza, Italy, in 1993.
The case continues on Tuesday next week.
Related Internet Links
The BBC is not responsible for the content of external sites.