Noisy cockerel gets 'death threats from neighbours'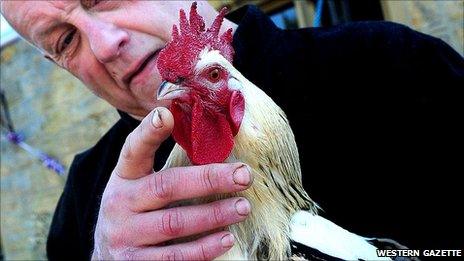 A noisy cockerel has received "death threats" from annoyed neighbours due to his early-morning calls, his owner has claimed.
John Newman, of Mosterton, Dorset, has hit out at those threatening Rooey the rooster saying it is what people should expect if they live in the country.
The latest letter threatened to turn Rooey into a "bank holiday barbecue".
West Dorset District Council had offered Mr Newman advice after it received a complaint about the noise.
However it has since closed the case.
Mr Newman, landlord of the Admiral Hood pub, said: "It's the country, if you can't have chickens here, where can you have them? It's what they do.
"You don't know if people are joking or not but when they start sending threatening letters it's a bit crazy.
"It's ridiculous, people who don't want to have farm noises shouldn't live here."
Mr Newman said the council had offered advice about keeping the bird in a box to stop it from crowing, however he refused due to cruelty fears.
West Dorset District Council said: "When we received a complaint we wrote a standard letter to the owner of the cockerel informing them that they were the subject of a complaint and to offer advice on possible ways to address the problem, one of which is to try keeping the cockerel in a box.
"We also asked the complainant to keep a noise diary and submit the diary to us by 23 May.
"We did not receive a noise diary or any further contact from the complainant, however, therefore the matter has been closed."
Related Internet Links
The BBC is not responsible for the content of external sites.