Crendell Church closes as Alderholt Chapel opens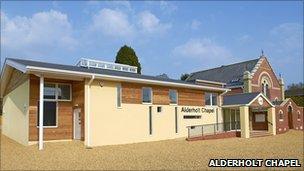 A church in Dorset will close, the same day a new one reopens two miles away.
The last service at Crendell Methodist Church near Fordingbridge, on the Hampshire border, takes place on Sunday.
The chapel, which was built in 1870, is closing because of a decline in its congregation.
Alderholt Chapel in Hampshire, originally built in 1923, will reopen on Sunday following a £1.1m redevelopment to increase its capacity.
Clifford Lockyer said he had lived in Crendell for 87 years and had been attending Crendell Church, which seats about 50 people, since the week he was born.
He said: "It's awful, I feel as though something's gone.
"This was my life and I looked forward to it every Sunday. It's home."
Harold Foster, originally from Crendell but now lives in Verwood, said that for many years he had visited the Methodist church for services.
He said: "For years it had about 15 to 20 members of the congregation.
"Then through illness and old age, the congregation - over the space of a year - went from about 12 to 4.
"It's just not sustainable."
Alderholt Chapel, which originally seated 100 people and has a congregation of about 130, was closed in August last year for a refurbishment to double its capacity.
Members of the chapel, which is part of the Evangelical Fellowship of Congregational Churches (EFCC), have been meeting in Alderholt's village hall since its closure.
Wes Thorpe, the chairman of Alderholt Chapel, said the chapel was more "user-friendly" than Crendell Church.
Mr Thorpe said: "We provide a creche so younger families can feel more included."
He added: "Crendell doesn't have as many houses as Alderholt - there's probably only about 10. Whereas Alderholt has seen quite a lot of development in recent times."
Alderholt Chapel's extension has changed the original building "beyond recognition" including installing a mezzanine floor, Mr Thorpe said.
The downstairs will run as a coffee bar, which will open to the public four days a week, and upstairs there are two smaller meeting rooms for the chapel's youth clubs.
Mr Thorpe said: "We've had a couple of test runs in the new church. Last Sunday 160 people turned up for the service.
"We're expecting even bigger crowds on Sunday and we've only got 200 chairs."
When Crendell Church closes Mr Lockyer said he will attend Alderholt Chapel services.
Of the new building, he said: "It's lovely, it's so big and the congregation is terrific."
The money for the redevelopment of Alderholt Chapel was raised locally.
Related Internet Links
The BBC is not responsible for the content of external sites.