Two rescued from 'malicious' house fire in Poole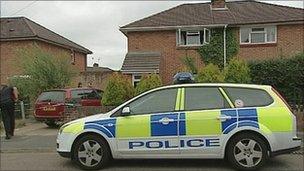 A mother and daughter had to be rescued after a suspected arson attack on their Dorset home.
Firefighters were called to the house in Wavell Avenue, Poole, at 0215 BST.
The woman and her 18-year-old daughter were forced to climb out of a first-floor window on to a roof after their escape route was blocked by flames.
They were subsequently rescued by firefighters. A Dorset Fire and Rescue spokeswoman said the cause of the blaze was believed to have been "malicious".
A man who was inside the semi-detached house also managed to escape.
The family was alerted to the fire by their smoke alarms. All three were taken to hospital where they were treated for the effects of breathing in smoke.
Three fire engines from Poole attended the incident.
A police investigation is under way.
Related Internet Links
The BBC is not responsible for the content of external sites.