Heather Barnett trial: Accused 'cut hair in Italy cinema'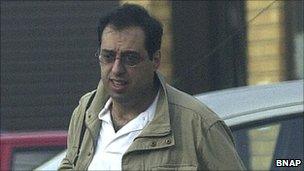 A woman has told jurors how her hair was cut in a cinema in Italy by a man accused of mutilating a mother of two.
Danilo Restivo denies murdering Heather Barnett, 48, who was found dead in 2002 at her Bournemouth home.
The prosecution allege Mr Restivo has a hair fetish and left a clump of someone else's hair in Ms Barnett's hand.
In a live link-up from Italy, Angela Campochiaro told jurors Mr Restivo cut her hair in a cinema in Potenza, about 17 or 18 years ago.
Prosecutors say the manner in which Ms Barnett was murdered can be considered Mr Restivo's "hallmark" and have linked the killing to the murder of a teenager, 16-year-old Elisa Claps, in Potenza, in southern Italy, in 1993.
Mrs Campochiaro, who said she had long black hair at the time, told the court she was at the cinema with her then fiance.
She felt her hair being pulled from behind on a number of occasions and looked around, jurors heard.
She told her fiance Nicola Marino who asked the man what he was doing to which there was no response, Winchester Crown Court heard.
She told the court the man involved was definitely Mr Restivo.
Mr Marino told jurors he also noticed the man had his jacket on his knees and his hand was moving underneath before he later moved seats away from the couple.
Mrs Campochiaro said the next day she noticed her hair had been cut but did not report it as "it didn't seem a harmful thing", jurors were told.
But some years later Mr Marino contacted the Italian television show Chi l'ha Visto - the Italian equivalent of the BBC's Crimewatch.
He told the court there had been an appeal for women who had had their hair cut to come forward.
The jury will hear further evidence from Italy on Wednesday.
It has previously been heard Mr Restivo cut the hair of teenage girls on buses in the Bournemouth area around the time of Ms Barnett's death.
Mr Restivo, 39, of Chatsworth Road, Bournemouth, is alleged to have entered Ms Barnett's flat and bludgeoned her with a hammer before cutting her throat.
Related Internet Links
The BBC is not responsible for the content of external sites.