Oliver Letwin examines A35 lorry restriction plan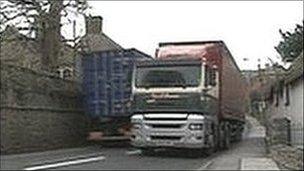 Some lorries could be banned from using the A35 under plans being investigated by the West Dorset MP Oliver Letwin.
A scheme like the low emission zone in London - where drivers have to register to use the road if they deliver to the area or be fined - is one of the options being examined by the MP.
Campaigners from the Dorset village of Chideock have protested for three years against lorries using the road.
The Road Haulage Association said a ban would set a dangerous precedent.
Campaigner Tony Fuller has protested for heavy goods vehicles to be diverted away from the A35.
He said: "I live six feet away from the road. We absolutely love this house apart from its situation next to the road."
Mr Letwin said he was looking into the possibilities of banning heavy goods vehicles which were not delivering to the area.
He said: "We've had serious discussions with the Highways Agency and the councils involved. The technology is now available.
"A new set of rules would be needed, but we are a long way from that."
The move could also affect businesses in neighbouring Devon, which use the road as a link between Honiton and Bournemouth.
Debbie Clarke, from haulage company CC Clarke in Crediton, Devon, said: "It would be an inconvenience for HGVs if they had to register to use the road."
The Road Haulage Association's Mike Moore said: "I can't see it [a ban] working.
"We will all have to pay extra money for the added distance the lorries will have to travel."
Mr Moore said a lot of the lorries that use the A35 delivered to the area and questioned the need of a diversion.
Related Internet Links
The BBC is not responsible for the content of external sites.