Upton Heath fire 'destroyed eco-system'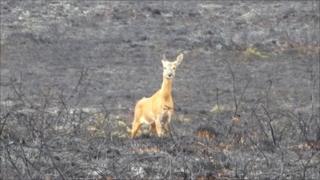 A wildlife trust has said an "entire eco-system was destroyed" in Dorset's largest heath fire for 35 years.
Homes were evacuated while 200 firefighters tackled Thursday's blaze, which spread rapidly over one sq km (247 acres) of heath at Upton, Poole.
Dorset Wildlife Trust said a third of the heath had been devastated, putting wildlife development back 25 years.
The fire is thought to have been started maliciously and police want to trace two men seen leaving the site.
Simon Cripps, chief executive of the trust, said the fire had happened at the peak of the bird and reptile breeding season.
Thousands killed
He said: "It is doubly heartbreaking that Dartford warbler numbers had already been halved by the cold winter and there is now little chance of recovery for them for many years.
"Other birds affected are the rare nightjars, which have only recently arrived from Africa to breed on the heath.
"Thousands of reptiles, including all six British species of reptile, have been killed along with countless invertebrates, representing the destruction of the entire eco-system."
Steve Davis, volunteer manager at the trust, was an eyewitness and said: "I was amazed by the height of the flames and the intensity and speed of the fire.
"I saw it jump several times around 200m in a matter of seconds.
"The intensity of the heat will no doubt have a massive impact on the seed bank in the ground and this in turn will have a hugely negative effect on the ability of the site to recover."
Dorset Fire and Rescue Service said it was Dorset's biggest heath fire since 1976 and crews remained on the site damping down on Saturday.
A spokesman said it was difficult to tackle because of high winds and the heath being marshy and hard to access.
Four people were treated after breathing in smoke and one firefighter was taken to hospital with exhaustion while another suffered minor burns to his arm.
The fire came within metres of many properties but was brought under control after about six hours and residents were allowed to return home.
The young pair police are trying to trace were seen walking toward the A35 footbridge leading to Heights Road in Upton on Thursday.
Det Insp Jim Beashel, from Dorset Police, said: "I believe that those responsible are likely to have told friends or family about their involvement, and would urge anyone with information to contact us urgently."