Dorset footballers help students remember Nathan Cross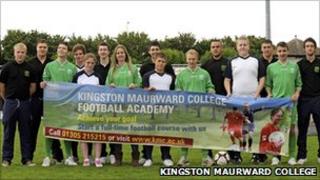 A group of football students from Dorchester have organised a charity football match in memory of a friend who died earlier this year.
Friends of Nathan Cross, who died following a bacterial infection aged 16, have persuaded ex-professionals from around Dorset to play in the game.
Friend Daniel Pyett said Nathan was "a cheery chap and sadly missed".
The idea for the fundraising match began as part of their National Diploma Football Studies course.
With the help of the coaches at Kingston Maurward College, the students got more than 30 players to take part in the game at 1900 BST, including former Weymouth and Dorchester players Ian Matthews, Andy Harris, Alex Brown and Trevor Challis.
'Positive legacy'
The event will raise money for the Great Ormond Street Hospital in London, where Nathan was treated, and the Special Care Baby Unit at Dorset County Hospital in Dorchester.
More than £3,500 has already been raised in Nathan's memory.
Nathan's father, Kevin Cross, said: "The way in which Nathan's friends have rallied round has continued to impress me. It's completely overwhelming.
"I do draw strength from how he will always be remembered and has left behind such a positive legacy."
Tutor Sharon Cornick said: "I am very proud of the students, they have come up with a great event and are working extremely hard to organise it."