Exhibition shows Dorset's changing Jurassic Coast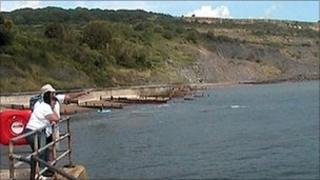 An exhibition showing what the eroding Jurassic Coast may look like in 20 or 100 years is to tour Dorset.
Residents in Swanage, Charmouth, Weymouth and Sidmouth, just over the Devon border, are being invited to see how the problem could affect them.
Visitors will be shown computer-generated images and find out how other communities have adapted to the change.
The exhibitions follow a government-funded project called Pathfinder, which looked at coastal change.
Jurassic Coast Pathfinder project manager Rupert Lloyd said: "The Jurassic Coast has been shaped by erosion and it is the reason the area enjoys World Heritage Site status, but erosion also presents challenges and opportunities for communities that have made the coast their home.
"We can not afford to defend everywhere forever against the advancing sea, but we can widen the range of options open to communities to adapt to change."
In May 2008, about 400m (1,312ft) of cliff slipped between Lyme Regis and Charmouth, exposing an old landfill site.
The first exhibition opens at the Mowlem Theatre Community Room, Swanage, on Thursday, 30 June at 1000 BST.