Bearded tits show signs of survival at Weymouth wetland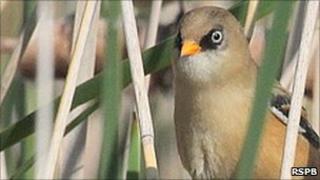 The population of a rare bird living on a Dorset wetland is showing signs of recovery after concerns it had been wiped out over winter.
Numbers of bearded tits at Radipole Lake near Weymouth plummeted in the freezing weather, prompting fears for the whole of the breeding population.
A number of juvenile bearded tits have recently been spotted and photographed.
RSPB's Luke Phillips said: "It's early days but this is certainly a glimmer of hope that these birds will recover".
There are currently about 500 pairs of bearded tits in Britain. The long-tailed, light orange-brown birds are confined to large reed beds of the type found at Radipole Lake.
The Weymouth wetlands are home to around half of Dorset's population of bearded tits and is one of the most significant breeding sites for the bird in the South West.
Severe winters
However the small birds, which eat reed seeds in winter, are particularly vulnerable to cold weather.
It is known that severe winters in the middle of the last century almost wiped out the whole of the UK's population.
Mr Phillips said: "It's been sad having to tell visitors, many of whom come from far and wide specifically to see 'beardies', that there aren't many about this year."
He admits it could be years before the population returns to the levels of two years ago of around 12 pairs.
An ongoing £685,000 project to revitalise the Weymouth site is aiming to provide better quality wet reedbed and ditch edges for birds to forage and feed, as well as retaining the drier areas for breeding.