Majority of Dorset schools will not pay for crossing patrols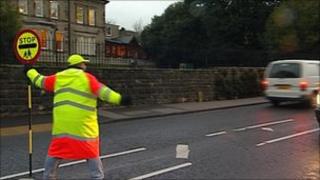 The majority of schools in Dorset who use crossing patrols say they will not pay for the service when the council withdraws its funding in 2012.
Dorset County Council wants to cut the £200,000 a year in salaries it currently pays for the service.
A BBC survey found that 32 out of 56 schools in the county who qualify for a crossing under national criteria would not be plugging the funding gap.
The council has said it has no legal obligation to fund the patrols.
Mark Cheesley, head teacher of Holy Trinity Primary School in Weymouth said: "It's something that should be provided by the council, not by individual schools, and from the economic point of view, we have a school budget which is supposed to be for all the learning that goes on in the school.
"The school budget isn't really about providing all the safety elements. We have separate budgets for that and those are already catered for."
Twelve of the 47 schools who responded to the survey were undecided about whether they would fund a patrol while one said its crossing was already privately funded.
One school declined to comment, while another was unaware that a nearby crossing patrol was specifically for its pupils.
There are currently 62 schools in the county with crossing patrols - 56 qualify under national criteria, which involves the measurement of traffic volumes and the number of children crossing at the busiest time of day.
The Conservative-led authority needs to save £31.1m in 2011/12.