School in Dorset may house excluded pupils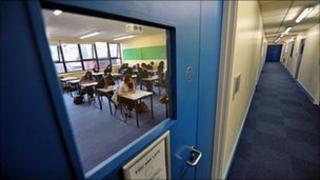 A school in Dorset could be used to teach 40 teenagers who have been excluded from mainstream education.
Poole Borough Council is hoping to use part of Turlin Moor Community School in Hamworthy to provide facilities for children with behavioural difficulties.
Residents on the Turlin Moor estate are worried about anti-social behaviour.
The council argues the proposal is good value for money and says there is no alternative building in Poole suitable for Key Stage 4 services.
The excluded pupils - who cannot be educated in mainstream schools for emotional, behavioural or medical reasons - attend the Quay School, which has sites across the borough.
Lou Knight, chairman of the management committee of the Turlin Moor youth club, told the BBC: "There's a fear of anti-social behaviour, which is something we've had previously on the estate, but it has been addressed now by the safer neighbourhood team and the youth club, by working with young people.
"The other fear is that if these young people are left running around the estate there could be confrontation with local youngsters."
Mr Knight who has lived on the estate for 15 years, also believes there was a lack of consultation between the council and residents over the proposed move.
"A very brief one day consultation, then it's rushed through cabinet. The Localism Bill is supposed to give local people greater powers and a voice over things like this."
'Concerns resolved'
Mr Knight, 63, believes the council should recognise the "strength of feeling locally".
Vicky Wales, Poole Borough Council's head of children and young people's integrated services, said she hoped the whole community would be able to make use of the new facilities that the Quay School would offer.
"Some residents have expressed concern and the school and the council will work with local residents and groups to make sure the move is a success and any concerns are resolved," she said.
Councillors will be presented with a petition signed by hundreds of residents opposed to the proposed move when the matter goes before full council.