Heather Barnett murder: Danilo Restivo 'would kill again' fears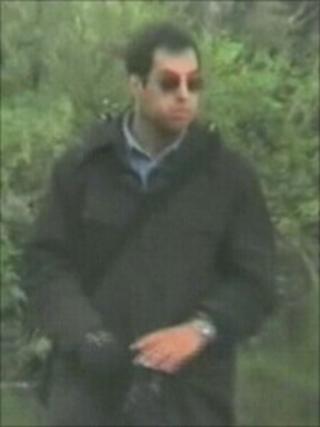 For seven years police could only watch as the man they suspected of the brutal "hair-in-hand" murder of Heather Barnett walked free - a man they could not charge due to lack of evidence.
Yet they feared Danilo Restivo could kill again.
After he was placed under surveillance he was seen watching lone women at a beauty spot with a filleting knife in his bag.
"We know that it is likely that he was able to fantasise and re-live Heather's murder for some time and get the kicks out of it," said retired Det Supt Phil James, the then head of the police inquiry.
"But my understanding is that at some stage that would have waned and he would have wanted or needed to go and kill again.
"I think there's very good possibility he would have gone on to become a serial killer."
Restivo lived across the street from seamstress Ms Barnett's ground floor flat in a suburban Bournemouth home - and had comforted her children when they returned from school to find their mother's mutilated body in the family bathroom in November 2002.
'Bumbling idiot'
Bizarrely, strands of cut hair had been placed in 48-year-old Ms Barnett's hand that did not belong to her.
Dorset Police initially discounted Restivo, 39, as a suspect - he was just the "local bumbling idiot", Mr James said.
The Italian national also had a plausible alibi, that he had been attending a computer course at the time of the murder.
It was initially thought such a violent death would have been carried out by a "crazed lunatic" but detectives soon realised the killer had been very "forensically aware", Mr James said.
"You realise it's a man that has planned to do this. It's a man who brought with him his own hammer, a man who brought with him his own knife, potentially a scalpel to undertake the mutilation," Mr James said.
"It's a man who brought with him head hair. It's a man that brought with him a change of clothing and a change of shoes so he could change out of his blood spattered clothes and shoes before he left."
For several months officers drew a blank.
Watching women
It was when officers searched the internet in 2003 and found Restivo was being linked to the disappearance of an Italian 16-year-old, Elisa Claps, in Potenza, Italy, in 1993, that he was placed under police surveillance.
Restivo admits he met Elisa Claps on the day she was last seen alive at a church in Potenza, where her body was later found in 2010. He denies being involved in her death.
It was in May 2004 that surveillance officers followed Restivo to a beauty spot at Throop, near Bournemouth.
They saw him watching lone women from the undergrowth with a filleting knife inside his bag, wearing a full set of waterproof clothes, carrying a balaclava and gloves despite warm weather.
Mr James said: "I believe that what we saw down at Throop was his need to kill again, his desire to kill again and I think if we hadn't have been following him and been very aware of him at that time he would have killed then and very likely killed again."
Mr James said he told Restivo "that we've been following him, that we've got major concerns for him and we will continue to follow him because we can't allow a man to be walking around Bournemouth following lone women with a knife".
Foreign language students who were staying at Restivo's address, at his girlfriend's invitation, were told they were at risk and hospitals where Restivo applied for work were warned.
Green towel
But detectives were still "missing that one vital piece of evidence" to link Restivo to Ms Barnett's murder, Mr James said.
Developments in science and DNA analysis eventually led to Restivo's arrest for Ms Barnett's murder in May 2010.
The "only mistake" the killer appeared to have made was to leave a green towel at the scene of the murder, Mr James said.
"It wasn't until some eight years later that we actually developed or could use forensic technologies and techniques that allowed us to get [Restivo's] DNA from the towel.
"If we hadn't got that DNA from the towel I don't know where we would have been."
Computer science also changed and "a forensic expert was actually able to refute Mr Restivo's alibi 100%", he added.
Mr James said he thought Restivo had been "very cunning and clever" to comfort Ms Barnett's children on the day they found their mother's body, so he could explain away, if needed, why his victim's DNA was on his body.
"Not because he's got an emotional bone in his body because, if he did, he would have phoned the police during the day to prevent those two young children finding their mother in such an horrific situation."