Anger over plans to close Portland Coastguard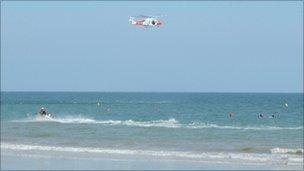 Plans to close Portland Coastguard station in Dorset have caused anger among staff and the local Tory MP.
It follows an announcement by Transport Secretary Philip Hammond, who told the House of Commons Portland was one of eight UK centres to face closure.
Mr Hammond told MPs 10 centres that were operational round the clock would remain under the scaled down plans.
Sarah Callaby Brown, one of 25 officers based at Portland said she was "devastated and shocked" by the news.
"A job I love, a career I'd worked hard at over 16 years, will be no more," she said.
"In my opinion, I do believe this plan will cost lives. Local knowledge will be missing.
"Around the Dorset coast there are anomalies like the tidal races off Portland, double tides in Poole, the perilous Chesil Bank.
"People not from around this area won't have this in-depth knowledge."
"I'm certain there could have been other ways of cutting costs."
Richard Drax, Conservative MP for South Dorset, said: "I'm really disappointed, I'm very sympathetic to the staff who will potentially lose their jobs.
"I really am angry, I think it is a bad decision. It's a bad day for Weymouth and Portland and the safety and security of the thousands who come down to enjoy our coastline.
"Without the local co-ordinator, inevitably response times will be delayed. In the water you have a matter of minutes to rescue people."
In response to reports suggesting the station would be kept open until after the Olympic sailing events in 2012, Mr Drax said: "If they are vital up to the Olympics, they are vital after the Olympics. If anything we need to beef up our resources."
"It's madness - an insult to those professional people who take care of us."
Mr Hammond confirmed that initial plans to cut 10 out of 18 UK centres had been scaled back.
The other seven centres that will be shut are Clyde, Forth, Liverpool, Yarmouth, Brixham, Thames and Swansea.
MPs were told there would continue to be coastguard stations at Falmouth, Holyhead, Milford Haven, Belfast, Aberdeen, Humber, Stornaway and Shetland.
There will also be one Maritime Operations Centre covering the Southampton and Portsmouth area, which will replace the existing centre at Lee on Solent in Hampshire.
Another centre at Dover will oversee activity in the English Channel and there will be a smaller station in London.
Under the initial plans only three centres would have remained open 24 hours a day, now all 10 that are being kept will stay open around the clock.
The original proposals were criticised in a report by the House of Commons Transport Committee, which said evidence it had received during its inquiry into coastguards had raised "serious concerns that safety will be jeopardised if these proposals proceed".
The transport secretary's announcement follows a consultation process in which the government received about 1,800 submissions.
Related Internet Links
The BBC is not responsible for the content of external sites.