Chapel Lane biomass power plant approved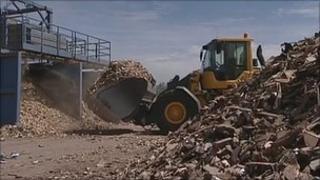 Plans for a £12m biomass power plant in east Dorset have been given the go-head by council planners.
An incinerator will be built at Chapel Lane, near Bournemouth Airport, and is expected to begin producing power by January 2013.
It will burn 25,000 tonnes of waste wood every year and generate enough electricity to power 5,000 homes.
There is already a large recycling operation at the site.
Eco Sustainable Solutions submitted its planning application for the plant in July 2007 and it was approved by Dorset County Council's planning committee on Friday, more than four years later.
Wood waste exported
Trelawney Dampney, Eco's managing director, said more than 35,000 pieces of scrap wood were sent abroad from the plant each year.
"It seems absolutely crazy to me," he said.
"Obviously we separate out the good quality material for animal bedding but all the residual goes to Sweden to generate electricity over there.
"This is a great day for Dorset and for all those who believe in green and sustainable energy.
"Biomass plants make environmental and economic sense and we're delighted that, finally, we have received approval for our proposal."
Dorset County Council approved the scheme despite some objections from residents about increased noise and traffic.