Tolpuddle Martyrs' Festival draws record crowd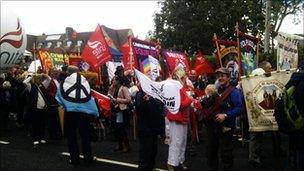 A record number of 10,000 people have turned out for the Tolpuddle Martyrs' Festival and rally in Dorset.
Organisers said there had been "an unprecedented level of demand for tickets" and the campsite was full.
The TUC said heightened concerns about cuts to public services and jobs and attacks on pay and conditions were behind the increased interest.
The festival celebrates the story of six farm workers who formed the first trade union in 1834.
Friday and Saturday tickets for the festival sold out but entry on Sunday and the afternoon rally was free.
The six Tolpuddle Martyrs were agricultural labourers who formed a "friendly society" - a forerunner to a trade union - and swore an illegal oath to protect their falling wages.
They were put on trial at Dorchester Crown Court and sentenced to seven years transportation to an Australian penal colony.
But the outrage about their punishment caused protests across England and after four years they were given a complete pardon and they returned to their homeland.
Nigel Costley, South West TUC regional secretary, said the annual Tolpuddle Martyrs' Festival was always popular but the level of interest this year had been greater than ever before.
He said before the rally: "Tolpuddle is bigger and better than ever, and this year we will be rekindling our spirit for what looks set to be a big fight ahead over public services and pay, conditions and jobs for private and public sector workers.
"As we celebrate the battle won by the earliest trades union, which demonstrated in defence of basic workers' rights nearly 180 years ago, we will also be re-learning the lesson that we won before - and we can win again.
"Tolpuddle is a chance for the trades union movement to build new friendships and share ideas to take back to our workplaces and communities, refreshed and ready to face a very real set of modern day challenges, challenges such as the ones facing six million public sector workers facing the prospect of increases in pension contributions in the middle of a two-year pay freeze.
"Or the 50,000 health service workers due to lose their jobs over the next four years in the name of efficiency savings. Or the council workers - care assistants, cleaners and social workers - told to agree a 5.4% pay cut or face the sack."
Sunday's musical performances included singer-songwriter and political activist Billy Bragg, who lives in Dorset. He was expected to play his new single Never Buy the Sun, written in the wake of the News of the World phone hacking scandal.
Related Internet Links
The BBC is not responsible for the content of external sites.