Oil-covered dead sea birds found on Chesil Beach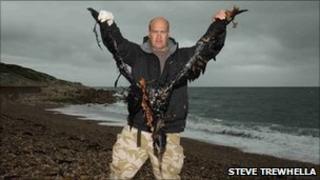 Dead sea birds covered in oil have been found washed up on Dorset's Jurassic Coast.
About half a dozen birds, including fulmars, gannets and guillemots, were discovered along Chesil Beach, near Portland.
The Environment Agency said it was not investigating the incident but said it was likely that a ship had dumped its engine oil at sea.
The birds were discovered by wildlife photographer Steve Trewhella.
Mr Trewhella said: "It's possible this oil was dumped at sea - it happens a lot.
"The south west winds will have blown it in with litter and other debris. The birds are all ones that feed on the water, such as gannets, fulmars and guillemots.
'Without a thought'
"It's possible they drifted into the oil, or the oil drifted into them - either way, the result is dead birds."
The Environment Agency said it believed the dead birds had been collected and it was likely that any remaining oil would quickly disperse.
A spokesman said ships were known to dump oil from time to time, but it was almost impossible to detect or punish perpetrators.
RSPB spokesman Tony Whitehead said: "It's dreadful when you see things like that - it just goes to show that The Channel is a very busy seaway and it's an issue for sea life.
"People do it without a thought for the wildlife around them and that's a real tragedy and we urge people who use the seaways not to do it."
Mr Whitehead said if members of the public discovered any live birds, they should contact the RSPCA immediately.