Chinese Ming tomb horse at Duke's auction in Dorchester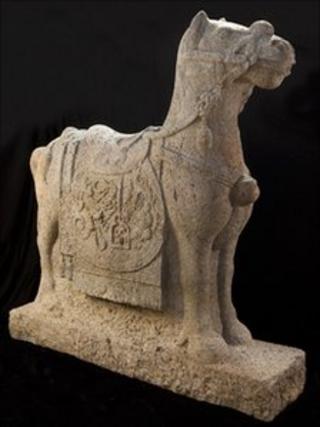 A rare 7ft (2.1m) stone horse from the Chinese Ming dynasty is expected to fetch up to £100,000 when it is sold at auction in Dorset.
The sculpture was one of six that stood along the route to the entrance of a nobleman's tomb in southern China.
It dates from the 14th or 15th Century and is being sold after the owner died.
He imported six horse statues in the 1970s or early 1980s. This one for sale was placed in a garden for 30 years and was covered in moss and lichen.
The horse, which is the size of a real small pony and weighs more than 2 tonnes, is carved from hard rock and is wearing its ceremonial tack and robes and has its teeth exposed.
Stone warriors
It is thought to originate from Nianjing in south-west China and will be sold by Duke's Auctioneers, of Dorchester, on Thursday 29 July.
Another of the statues imported by the owner is on display at the Reitberg museum in Zurich, Switzerland, along with one of several warrior statues which would have lined the same route to the tomb.
Duke's said there was expected to be huge interest from newly-rich Chinese collectors.
Amy Brenan, from the auction house, said: "These horses were carved in southern China to line the routes to tombs. In northern China they tended to use camels.
"Many were uncovered during tomb excavations and were sold to the West.
"This was standing outside for many years and was covered in moss and lichen but was cleaned before it came over to us.
"It is small by standards of some of these funerary sculptures and we don't know whose tomb it was made for.
"However, it is an important object from the Ming dynasty and with the Chinese market so buoyant at present we are hoping for a good price."