Bluefin tuna sighting off Dorset 'significant'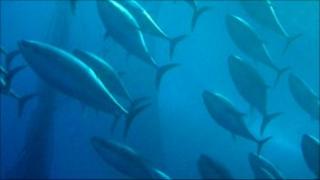 When a spear fisherman caught a bluefin tuna off the coast of Dorset, news of his unusual catch quickly spread.
The presence of a bluefin off Portland in July has attracted the attention of conservation groups since the critically endangered species is seldom seen there.
Dorset Wildlife Trust described the catch as "irresponsible" but added the sighting of bluefin tuna there was significant.
Kathryn Dawson, from the trust, said records of tuna sightings in the area had been kept for 70 years and were "pretty rare and quite special".
"Bluefin tuna has historically been present in waters around the UK and this is the first time we've had a verified identification in Dorset," she said.
Over-fishing of tuna has led to strict controls and quotas in the oceans where it is most commonly found.
Popular as sushi
Bluefin tuna is caught in the Pacific Ocean and the Indian Ocean, with smaller quantities fished from the Atlantic Ocean and Mediterranean.
The biggest market for the fish is Japan, where people eat it raw in sushi.
Bluefin numbers began to decline in the 1960s with the introduction of new fishing methods, with over-fishing leading to its critically endangered status.
In Dorset, Ms Dawson suggests a possible reason for their reappearance was that they were following a food supply.
She said: "We don't know for sure why they were there, it could be that they were returning to waters they once used, for some reason, or could have been there all along but just hadn't been seen.
"We haven't had these in our waters in years - but we are meant to have them."
The Dorset coast, and in particular Weymouth and Portland, is popular with both commercial and recreational anglers, and Ms Dawson believes most people who fish there would know not to catch and kill - or "land" - a tuna.
'Catch and release'
Weymouth-based fisherman Dave Pitman has run fishing trips from the town's harbour for the past 35 years.
Fish caught by his customers are often put back into the sea, and can include dogfish, skate and turbot.
He said the man who caught the tuna had seen two of them, and caught it using a spear gun while he was diving.
He said: "If you caught a tuna most people would go mad [with excitement], but we know they are endangered and to not fish for them in this country."
Ms Dawson urged fishermen to follow the practice of "catch and release", which is also a way of helping to preserve local fish stocks.
"We appreciate that anglers are excited but they need to look after their own resources," she said.
"If anyone catches and releases a tuna we would like to know."
Dorset Wildlife Trust's Peter Tinsley said: "It would be irresponsible to intentionally kill one of these fish and it would be sad to see another killed in Dorset."
The Marine Management Organisation (MMO) is calling for vigilance from the fishing industry to ensure it does not catch bluefin tuna and "strongly discourages" any targeted fishing of the species.