Salmon return to the River Stour in Dorset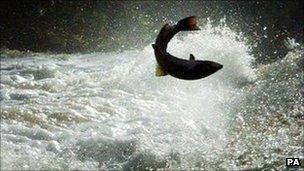 Salmon are returning to the River Stour in Dorset after being almost eradicated in previous decades, the Environment Agency has said.
Dredging work on the river in the 1970's contributed to the reduction in salmon stocks.
The agency has been carrying out habitat restoration work on the river, including repairs to a collapsed bank.
Several salmon have now been seen lying in the weir pool below Glen's Weir on the Throop Fishery, Bournemouth.
The work carried out by the Environment Agency also included hundreds of tonnes of Portland stone being placed in the river to improve flows.
Fish refuge areas were also created and gravel spawning beds reinstated.
A 100m-stretch of Glen's Weir has been improved in total.
Jim Allan, the Environment Agency fisheries specialist, said: "The work at the Throop Fishery has been a fantastic collaborative project. We are extremely happy with the end result."
The Environment Agency said the River Stour, which it listed as one of the 10 most-improved rivers in England and Wales this year, used to be one of the UK's top salmon rivers.
It was best known for its large "multi-winter" salmon - mature fish which have spent several winters at sea and return to the river of their birth to spawn.
Mr Allan said: "The Dorset Stour is often viewed as second best compared to neighbouring rivers such as the Avon, but this is not the case. Slowly but surely it is returning back into a fantastic river.
"I fully expect to see salmon spawning in the river this winter."
The river was dredged during the 1970s to reduce the risk of flooding to local areas.
Climate change, over fishing and changes in ocean currents also contributed to the loss of salmon on the River Stour, the Agency said.
It worked with partners including the Ringwood and District Angling Association and the Barbel Society at Throop Fishery.
The Barbel Society paid for the work and have supported the Stour Barbel Project since 2007.
Barbel, dace, trout and chub will also benefit from the habitat improvements, the Agency said.
Next year the agency will carry out detailed surveys of the river to monitor fish populations.
Related Internet Links
The BBC is not responsible for the content of external sites.