River Stour cattle grazing plans anger dog walkers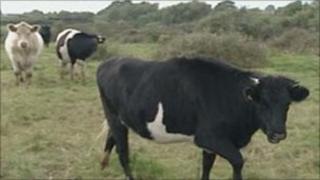 Council proposals to graze cattle along the river bank of a Dorset nature reserve have angered local dog walkers.
Up to 10 cattle are to be introduced at Stour Valley Local Nature Reserve, next to the River Stour in Bournemouth.
The borough council says the cattle are a sustainable way of managing grassland and will help to retain and improve the wildlife diversity.
A local action group says the plans will stop people from enjoying the area.
The proposals are now open to an ongoing public consultation.
Bournemouth Borough Council, which manages the reserve, has said it has so far received a petition with 450 signatures against the plans and more than 120 in favour.
The council wants to introduce seven "grazing compartments" at the reserve for the cattle to use between May and November.
Between six and 10 cattle, most likely Shetland, would graze the compartments, but not all compartments would be used at the same time.
'Positive impact'
Bronwen Pendray, from Friends of the Stour Valley which is lobbying against the plans, said: "If people are stressed they can come down here and they can just relax and enjoy the small bit of countryside that we've got."
She added the cattle will stop people and dogs from "wandering where they want to".
The council argues that grazing would have a "positive impact" on the wildlife and biodiversity of the site.
Mark Holloway, the council's countryside operations manager, said: "People and dogs will still be able to walk through the areas.
"People will not be boxed in and we would use attractive rustic fencing running parallel to the riverside footpath.
"This would be set back approximately 4-6 metres from the path."
Grazing schemes have already been successfully introduced at Hengistbury Head, Kinson Common and Turbary Common, the council added.