Invasive plants cut at TE Lawrence's Dorset cottage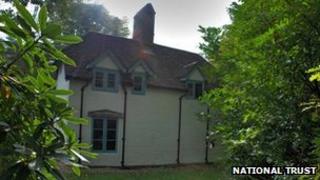 The land around TE Lawrence's retreat in Dorset is being saved from an invasive species of plant.
Rhododendron ponticum, a non-native species of purple-flowering shrub, is being removed at Cloud's Hill, Wareham.
Using 1930s aerial photographs the land will be restored to how it was when Lawrence, who became famous as Lawrence of Arabia, lived at the cottage.
Rhododendron hybrids and other native evergreens, which are being shaded out by the ponticum, will be replanted.
The work, which is being funded by Natural England, will take place over winter.
The National Trust, which manages the site, said the rhododendron ponticum is one of the main hosts for the plant disease phytophthora ramorum, which it added is causing "extensive" damage to trees, garden shrubs and heath plants throughout the west of the UK.
'Thrive again'
Some of the hybrids which will be replanted at Cloud's Hill currently exist at the site and were bought by Lawrence in London.
Although the roots of the rhododendron ponticum cannot be removed from the site due to archaeological reasons, the trust said that by removing the plant the heathland around Cloud's Hill would be allowed to "naturally regenerate".
Rob Rhodes, countryside manager for the National Trust in West Dorset, said: "We want to restore the landscape allowing the native plants to thrive again and provide the habitat for rare birds, insects and reptiles which make Dorset heath so special."
The area close to the cottage was originally planted with rhododendron ponticum and hybrids by Lawrence, who died in a motorcycle accident in 1935, to maintain its privacy.
The trust said it would recreate this screen during the replanting stage.