Sooty from Matthew Corbett's last stage show auctioned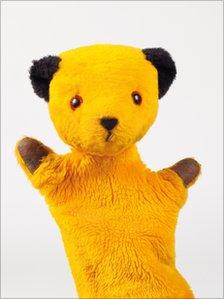 The Sooty puppet used by Matthew Corbett in his last stage show is to be sold for charity in Dorset.
Duke's Auctioneers are selling Sooty on 2 December to raise money for the charity Whizz-Kidz, which provides wheelchairs for disabled children.
The Sooty up for auction in Dorchester was specially designed for stage performances.
It was used by Corbett during the The House That Sooty Built stage show at London's Bloomsbury Theatre in 1997.
The puppeteer retired the following year.
The puppet has a split body to allow for quick hand entry during the performances.
The paws are described as "slightly distressed" due to the glue that was used to help Sooty hold on to his magic wand during the performances.
Sooty is being offered with a number of other items including a magic wand, books, badges and rosettes.
The puppet comes with a signed letter from John Seaton who was the Sooty & Co Company stage manager between 1988 and 1998.
Sooty has a reserve price of £300 - £500, and can be viewed from Saturday 27 November.
Related Internet Links
The BBC is not responsible for the content of external sites.