Pennsylvania Castle marketed as Olympic viewing venue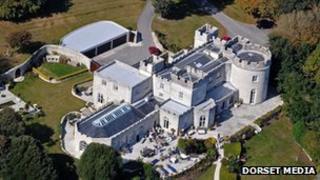 An 18th Century castle on the Dorset coast is being made available to rent as a luxury venue to watch the Olympic sailing events.
Pennsylvania Castle, in Portland, was built by John Penn, grandson of William Penn who founded the US state.
The castle has nine bedrooms, an indoor pool and its own helicopter pad. Some sailing courses on Weymouth Bay can be seen from the ramparts and gardens.
It is being advertised as a base for a large corporate or media organisation.
King George III celebrated a wedding anniversary in the castle in 1800 and it was also where Winston Churchill, General Eisenhower and General de Gaulle finalised plans for D-Day during World War II.
Australian businessman Chris Morris bought the property for more than £4m in January.
The castle was sold by the widow of Stephen Curtis, a millionaire lawyer connected to the Russian oil industry who died in a helicopter crash in 2004.
Viewing venues
Estate agent Ian Munro-Price, of Red House, said: "In terms of high end and luxury property there is so very little close to the [Olympic] venue, there is sure to be a huge demand for such ones."
During the Games, ticketed area at Nothe Gardens, Weymouth, will have big screens and race commentary relayed to paying spectators.
However weather conditions could dictate exactly how far off shore the racing will take place.
It is thought the ticketed area will generate revenue of £250,000 a day.
Another big screen will also show the racing to non-paying spectators on Weymouth Beach.
In August, Weymouth and Portland Borough Council approved plans to build a 173ft (53m) viewing tower with a rotating pod that could hold 50 people.
Plans to build a £3m viewing tower at Weymouth seafront in Dorset in time for next year's Olympic sailing events have been given the go-ahead by councillors.
The 173ft (53m) structure at the top of Festival Pier will include a rotating pod that could hold 50 people.
However, plans to increase the charges for the town's park-and-ride scheme, to cover staffing and security costs, were criticised by motorists and businesses.