Costa Concordia cruise survivor 'thankful for every day'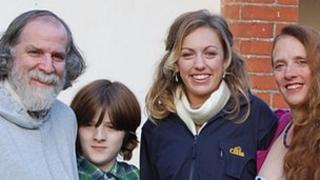 A woman who escaped from the Costa Concordia cruise ship crash says she is "thankful for every day" after being reunited with her family in Dorset.
Dancer Rose Metcalf, 23, had been performing on the ship when it ran aground off the coast of Italy on Friday.
Miss Metcalf had to wait four and a half hours to be airlifted to safety after she climbed on to the side of the listing cruise liner.
Back at her parents' home near Witchampton, Miss Metcalf said: "I'm so thankful for every day now and I'm so relieved for my parents because to lose a child would be a terrible thing."
Answer machine message
She recalled how there had been an "enormous groan" as the Costa Concordia hit a sandbar.
"Immediately we rocked back," she said.
"Bottles and glasses were smashing. It went pitch black.
"People were screaming and grabbing hold of the walls. I didn't know what was happening but there was no time for emotion, I was making sure people had shoes and life jackets on.
"We were listing sharply to starboard side, we could hardly stand up."
Miss Metcalf said she joined two colleagues on the wall of the ship as passengers rushed to the lifeboats.
"I just kept telling myself 'I can swim, I can swim'," she said.
Her main fear was that her parents would discover she had died in a television bulletin.
"When the wall started turning I thought we were going to die," she said. "If we'd fallen into the water we'd have died because of the drop."
'Burst into tears'
After being airlifted to a Tuscan army base, Miss Metcalf left a message on her parents' answer machine early on Saturday, informing them she was safe.
Her father Philip received the message seconds later, but her mother Carolyn, who was returning from a holiday with Rose's 12-year-old brother Robert, had an agonising wait, having left her mobile phone in Malta.
Mrs Metcalf said: "I thought Rose was dead - I drank a whole bottle of wine. It wasn't until about 7.30 at night that I found out from a friend, who had seen Rose on the news, that she was alive."
She described herself as being in a "dream-like" trance when she and Robert met Miss Metcalf at Heathrow Airport.
"It didn't seem real but then Rose grabbed us and burst into tears. That was when I realised she was back," she added.
Miss Metcalf, who has been performing in a cabaret onboard the cruiser since October, described losing all of her possessions as "totally irrelevant".
She said: "The most devastating thing was leaving all of the crew. The friends I made and the lifestyle I led were amazing."
Asked if she would return to work on a cruiser, she replied: "I'd like to perform on dry land for a while but I've not ruled it out."
The number of people confirmed dead currently stands at 11.
Judges have been questioning the ship's captain, Francesco Schettino, who was arrested on suspicion of manslaughter.