Dorset man who tackles Zimbabwe's water problems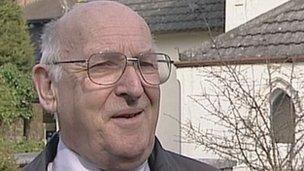 A retired medical technician from Dorset, who treated President Mugabe's first wife, is celebrating 30 years of helping fix Zimbabwe's water problems.
Rev Alan Clarredge, 71, from Bournemouth, was so affected by the conditions he saw while working for the first lady he started a charity supplying water purification equipment.
He has been told by the country's health authority his work has helped saved about three million lives.
"I do it because I've lived with the people and seen their needs," he said.
In the early 1990's Mr Clarredge helped provide dialysis treatment for Sally Mugabe who was suffering from kidney failure.
This year is the 30th year he has been working in Zimbabwe.
During his time in the country his foundation, Rivers of Living Water, has helped supply almost £300,000 worth of equipment that purifies water in small village clinics.
In recent years the country's economy has suffered rampant inflation and shortages of food and fuel.
Many Zimbabweans survive on grain hand-outs and Mr Clarredge says that cholera is still a problem in parts of the country.
Last year he attempted to fly 1.5 tonnes of medical supplies to the country but the Zimbabwean plane it was due to be sent on was impounded so he was forced to send it by sea.
The shipment is currently en route to the country's capital Harare and Mr Clarredge will shortly fly out to help distribute it.
Despite the dangers of the job he has no intention of stopping his work.
"There are risks," he said. "Last year we were making our way to a farm and were stopped and warned there was an ambush set up ahead.
"But I love doing it and see it as an honour to be able to do a little something to help the people of the country."
"The hospitals have no medicines what so ever."
This Saturday Mr Clarredge will be holding a coffee morning at Rossmore Gospel Church in Poole to help raise the money for his trip.
Related Internet Links
The BBC is not responsible for the content of external sites.