Dorset fire chief calls for sprinklers as standard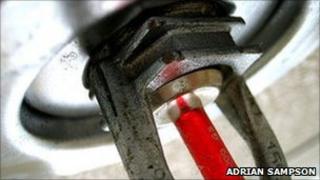 Dorset's chief fire officer has called for all new schools and care homes to be built with sprinkler systems.
Darren Gunter says there should also be a national debate about fitting them in new domestic properties.
In April 2011 the Welsh Government made fire sprinklers compulsory in all new homes but there is no timetable for introducing the systems.
At the time developers criticised the move saying it would make new building developments less viable.
Steve Morgan, chairman and founder of Redrow Homes, one of the UK's biggest developers, estimated the cost of installing a sprinkler in a three-bed house to be about £3,500.
But Ann Jones, AM for the Vale of Clwyd, said the cost were more likely to be between £1,000 and £3,000, and that builders would be able to absorb costs and make other adjustments to off-set the sprinkler installation costs.
Craig Baker, Head of Fire Safety at Dorset Fire and Rescue, said the service wanted to see national legislation in England like that passed in Wales.
He added: "We do accept that there is a cost to this but we really want to make sure people are thinking safety first.
"We know [with sprinklers] that people can get out safely, the property is protected to a very greater extent' the damage is less and the environmental damage is less."