Weymouth committing suicide, says retail expert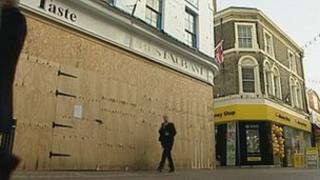 A seaside town in Dorset is "committing suicide" and must improve before it hosts the 2012 Olympic sailing events, according to a retail expert.
Together with Portland, Weymouth is preparing for the events and millions of pounds have been invested in infrastructure, like a new relief road.
But retail and business expert Geoff Burch has criticised the state of its High Street.
The council said there were issues but it was trying to make improvements.
Mr Burch, a commentator and business author, said something needed to be done to stop the decline and revive trade.
In a 2010 edition of BBC South's Inside Out programme, Mr Burch compared Weymouth's High Street with that of Dorchester, 10 miles (16km) away.
'Drooped and withered'
Returning to both towns a year later, Mr Burch noted times were still tough for retailers in Dorchester, but said Weymouth was "looking worse".
Mr Burch said: "It's not changed dramatically, it's just drooped and withered.
"Even the shops that are open, a lot of these shops are in the news for being in trouble.
"When you look up here this is a beautiful street, the architecture is lovely. It's all kind of seasidey and leaning in and lovely.
"Then below it are all these shops: 99p shops, cheap shops, empty shops, and you know what it is? It's a town that's committing suicide."
Weymouth council has blamed shop closures on the economic downturn.
But Mr Burch said: "You can blame it all on economics but the decline started long before the banking crash."
Mr Burch also blamed car parking charges for deterring people from visiting town centres.
'Getting worse'
"It's a nightmare - the council should be paying people to come in," he said.
"It's a nice place, the buildings are beautiful, but you get the feeling the town doesn't make the most of itself and play to its strengths.
"I can see a point where a town centre could lose every shop."
During the Olympics, 60,000 people are expected to visit the town.
"People have got to say, 'Wow, I'm coming back here'. If that's not what they are saying, the money has been wasted."
The new relief road may have made it easier for people to get into Weymouth, "but it's also made it easier for them to leave", he said.
Robin Clark, who owns Meridian Shoes in Weymouth, agreed it was "getting worse".
"There's nothing really happening here. The town is in decline when it really shouldn't be," he said.
"If something isn't done, I don't think there is a future here. It's just going to slide further and further."
Although no more shops have closed in the past year, 16 shops still stand empty in Weymouth.
Ian Doyle, regeneration manager at Weymouth and Portland Borough Council, said the authority was already working on ways to improve the High Street and attract investment.
"It would be ridiculous to stand here and say that everything's fantastic and that the environment is perfect for business," he said.
"I believe it's got so much potential, there's so much we can do working with all the partners here to make it a success for the future."
The full story will be broadcast on Inside Out South on BBC 1 on Monday 13 February at 19:30 GMT. It will also be available afterwards on iPlayer.