Highcliffe Nursing Home reduces 'death notice'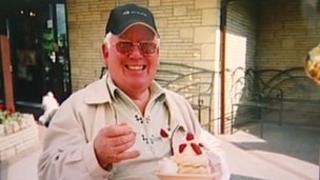 A Dorset nursing home has announced it will no longer charge for a four-week notice period after a resident's death.
Sue Cann, from Christchurch, was sent a bill for £3,000 because she failed to give Highcliffe Nursing Home four weeks "notice" before her father died.
Kingsley Healthcare, which runs the home, said it had "reviewed its procedures" but has not confirmed if Ms Cann's bill will be waived.
Ms Cann was charged the day after her father Kenneth's funeral two weeks ago.
Mr Cann, who had dementia, died on 30 January, aged 79.
Ms Cann said she had been "shocked" to receive the initial demand for payment, which arrived on 11 February, and went on to call for more rules on what care homes can charge.
In a statement, Kingsley Healthcare said: "We have now reviewed our administrative procedures, including the provision of notices relating to termination following death.
"We have decided to reduce the notice period on death to seven days with immediate effect."
Ms Cann said her father's 17 months in the home had already cost £63,000.