Bournemouth pupils' design chosen for Jon Egging memorial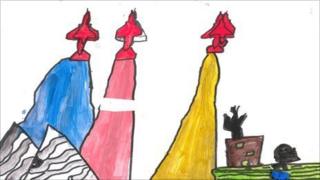 A permanent memorial to a Red Arrows pilot who died after an airshow display in Bournemouth will be designed by two pupils from Kinson Primary School.
Flt Lt Jon Egging, 33, of Rutland, was killed when his aircraft crashed into a field at the village of Throop, near Bournemouth Airport, on 20 August 2011.
A competition was held to come up with a design for the sculpture to be placed on top of the town's East Cliff.
The design was chosen by the pilot's widow Dr Emma Egging and mother Dawn.
It was created by Penny Vallier, 10, and George Cutler, nine, from Kinson Primary School.
They also chose the site for the memorial on the cliff top, in an area known as the East Rockery.
Countryside and mountains
Last year every school in Bournemouth was invited to submit their ideas for the memorial and the council received designs from 39 schools.
Dr Egging said: "There's definitely elements in this one design that lots of the other young people's designs have also brought out.
"This idea of John's love of the countryside and the mountains and the fact that the Red Arrows are well known for their smoke trails; this one we really felt brought them together in a kind of abstract way.
"[It was] something that could really lead on to visualising what is a 2D design into a 3D memorial."
The borough council has allocated £15,000 to artist Tim Ward to create the sculpture in time for this summer's Bournemouth Air Festival.
A team of professionals from the council is working with Flt Lt Egging's family, friends and colleagues to make sure the memorial is a fitting tribute to the pilot, who grew up in Southam, Warwickshire.