John Beesley confirmed as Bournemouth council leader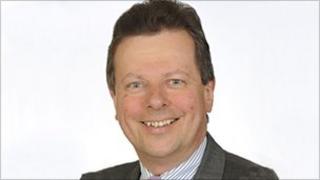 Bournemouth council has confirmed John Beesley as its new leader after his predecessor resigned following a vote of no confidence.
Mr Beesley was appointed leader of the ruling Conservative party last month with his appointment as council leader confirmed by the authority on Tuesday.
He replaces Councillor Peter Charon after a vote of no confidence by his own Tory party.
Mr Beesley said it was a "great privilege" to lead the authority.
Bullying accusation
He added: "I believe that it is important to residents that we continue to ensure the level of services provided by the council is maintained and to improve them where possible.
"We will strive to make further efficiencies and continue to deliver true value for money for council taxpayers."
Mr Charon resigned as leader of the council on 9 January following a vote of no confidence by his own party, which holds 46 of the 54 seats on Bournemouth Borough Council.
BBC South's Political Editor Peter Henley said it was Mr Charon's "personal qualities" which had led to his downfall.
During his time as leader, Mr Charon had an accusation of bullying upheld against him by the council's Standards Board.
Mr Beesley, who had been deputy leader, will appoint a cabinet and new deputy at a full council meeting on 28 February.