Poole gunman seen by pregnant woman during Spar raid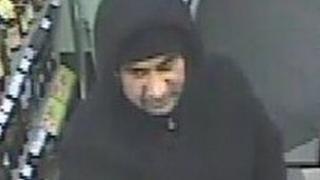 A heavily pregnant woman unknowingly saw the face of a gunman during a robbery at a shop in Dorset.
Two armed men entered the Spar shop in Upton Triangle, Poole, and threatened a member of staff on Thursday night.
But one of the robbers, who was behind the counter stealing cigarettes, exposed his face when the woman entered.
She completed her transaction and left. The men later fled with cigarettes and an undisclosed amount of money.
Police have released CCTV from the incident, including images of the gunman who removed his facial covering.
Det Con Steve May said: "A member of staff was able to complete [the woman's] transaction while one of the offenders, who was standing behind the counter, removed his facial covering in order to look less suspicious.
"I am particularly keen to trace the customer, a heavily pregnant woman, who was served while the robbery was taking place."