Weymouth Town Bridge closed for repair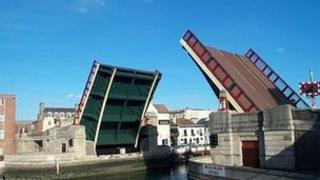 A Grade II-listed lifting bridge in Dorset has been closed to road traffic for major repair and maintenance work until 20 May.
Weymouth Town Bridge will still be open to pedestrians and will briefly reopen to traffic during the Easter holiday period - between 7 and 15 April.
Vehicles will be diverted via Commercial Road and Swannery Bridge.
Dorset County Council commissioned the refurbishment after inspections highlighted "serious wear and tear".
Lifting schedule
A revised lifting schedule during the work period has also been agreed with the harbour master.
Before Easter, there will be lifts as normal at 08:00 GMT and 18:00, plus a single-leaf lift at midday.
The same will apply after Easter, but with an additional lift at 20:00.
The work will include replacing the corroded supporting beams, resurfacing the deck and repainting the bridge and parapets.
The council's head of highways, Mike Winter, said the work had been "timed to avoid the busy Christmas and summer periods".