Weymouth businesses concerned over Condor ferry berth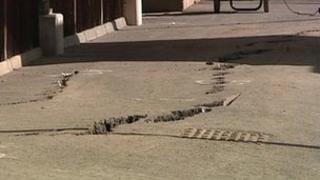 Business owners in Weymouth say they have been losing trade since the closure of the town's ferry terminal.
Summer and the Olympics are on their way but the town, which will jointly host the 2012 sailing events with neighbouring Portland, will be without one of its main transport hubs.
In February, Condor Ferries relocated its Channel Island service to Poole "until further notice" and the terminal was closed for emergency repairs.
The repairs failed and now Weymouth and Portland Borough Council is in a race against time to fix the terminal, which is showing signs of collapse.
'Cancelling bookings'
The authority, which had been earning in the region of £650,000 a year from Condor, says it will bring forward plans to develop the quay with a view to Condor returning by April 2013.
Colin House, who runs the Bunkhouse Plus backpackers hostel, said his customers had been cancelling bookings "by the dozen".
He said: "A lot of people used us as a stop-off place on their way to and from the ferry. All of a sudden we noticed that people were cancelling."
Mr House said he was not confident that the council could redevelop the quay in such a short space of time and said fellow business owners were worried that the ferry would stay in Poole permanently.
His view is echoed by Trisha Wilson, who owns the Duke of Cornwall pub in St Edmunds Street, a short walk from the terminal.
She said: "We are worried about it. I used to get people coming in on their way to and from the ferry and we are worried Condor might not come back.
"I can believe that Poole will fight very hard to keep the ferry and we are already losing our regular returners - people who come back the same week every year."
'Shorter run'
Condor has said it is working with the borough council on its port regeneration plans but has not confirmed whether it will definitely return.
Mark Vaughan, who owns Vaughan's restaurant, said he is confident that Condor will come back. He said: "It makes sense for them, it's a shorter run to Weymouth, but they should never have gone in the first place.
"It's going to affect businesses but the biggest concern is with the council - they knew about this problem two years ago."
The council's management committee chairman Mike Goodman said: "We have been aware that this particular area has been in need of comprehensive restoration in the future, and it was intended that the redevelopment of the whole of that peninsular would address this.
"It is the responsibility of the whole council that since the redevelopment was cancelled that we have agreed to use our limited funding for other priorities, and all councillors have been involved in making those decisions."
The problem is thought to be a result of "scour", where changes in the level of the seabed, caused by natural currents and by boats, can undermine underwater structures.