Red Arrows to fly again at Bournemouth Air Festival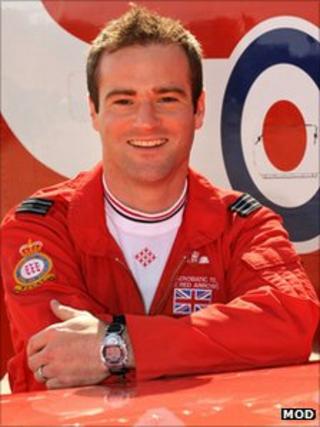 The RAF Red Arrows will take part in the Bournemouth Air Festival, a year after one of their pilots died at the event, organisers have confirmed.
Flt Lt Jon Egging, 33, from Rutland, was killed when his Hawk T1 plane crashed near Bournemouth Airport.
A statement from the festival said the Red Arrows' return was "especially welcomed".
The Ministry of Defence has said seven, rather than the usual nine aircraft, will conduct air displays in 2012.
The change for this summer's displays is due to the "unavoidable posting" of one of their pilots.
The MoD said: "With safety paramount, but the quality of the displays vitally important, it has been decided that seven aircraft presents the most visually balanced and dynamic formation.
"The team will still carry out official flypasts with nine aircraft and will return to a full aerobatic formation of nine aircraft in 2013."
Flt Lt Egging was in one of nine Red Arrows aircraft that had earlier taken part in a display over the seafront during the August 2011 air show when his plane crashed.
His widow Emma set up the Jon Egging Trust to develop training opportunities for young people.
Speaking at the launch of the air festival, Mrs Egging said her husband was "passionate about using his position as an RAF officer, flying instructor and Red Arrows pilot to inspire young people.
"It will always be hard coming back to Bournemouth, it will always be connected to that day in August, but the warmth and the generosity and the support for the trust and for Jon has been huge."
She has been working with pupils at Kinson Primary School after pupils won a competition to design a permanent memorial for the town.
It will be situated on the cliff top at East Cliff and is expected to be in place in time for the festival in August.
The event takes place one weekend later than last year because of the Olympics, from Thursday 30 August to Sunday 2 September 2012.
Organisers say the festival has attracted 3.7 million spectators since it started in 2008.