Dorset man to be given medal for rescuing children from fire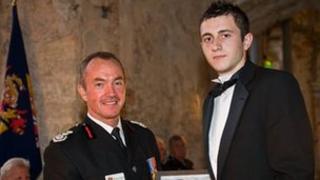 A Dorset man is to be awarded the Queen's Gallantry Medal after rescuing five children, including a 16-month-old baby, from a burning building.
On 3 January 2010 Matthew Robinson realised his neighbour's house in West Street in Abbotsbury had smoke billowing from the windows.
He attempted to force the door, but found there were 6ft flames and heavy smoke in the living room.
He and his mother used a ladder to rescue the children through a window.
'Life-threatening situation'
Mr Robinson managed to rescue three children, including the baby, before climbing inside the house to find the remaining two children, one of whom was unconscious.
He fell over several times in the thick smoke, but managed to bring them to safety and leave just as the fire crew arrived.
Mr Robinson will now be awarded the prestigious Queen's Gallantry Medal, following a nomination by Dorset Chief Fire Officer, Darran Gunter.
He has already been awarded the Chief Fire Officer's Certificate of Commendation and the Society for the Protection of Life from Fire award in 2010.
Chief Fire Officer Darran Gunter said Mr Robinson had demonstrated "unwavering selflessness" in a "life-threatening situation".