Occupy Bournemouth protesters evicted from university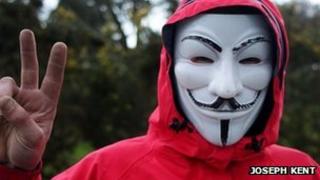 Protesters from the Occupy movement have been evicted from land at Bournemouth University.
The university was granted an injunction earlier to remove the group, awarding them £500 costs.
Bailiffs cleared the site near the Talbot Campus, but one protester said they were determined to keep the campaign going.
Protesters first set up camp near the university on March 9 having previously been outside Bournemouth Town Hall.
'Bit of a blow'
Protester Gary Sherborne was disappointed with the court's ruling but hoped to be able to continue the protest peacefully.
He said: "The injunction means I can't step foot on university land again, while the fine has essentially been awarded against me.
"I wasn't expecting it to be quite so high and it's a bit of a blow.
"The bailiffs were satisfied we had left the site in a fit state and moved us on with no disruption."
Mr Sherborne added: "We're going to get together as a group before the weekend and discuss where we go next with the campaign.
"We have a couple of very public places in mind for a new site and we fully intend to continue with our right to assemble."
Bournemouth University confirmed the protesters left the land near the campus, owned by the Talbot Village Trust, without any problems.
A spokesman said: "We're clearly pleased the protest has ended peacefully and are grateful to all staff and students who may have been affected by the protest for their patience and understanding."