Poole's Twin Sails Bridge resurfacing work under way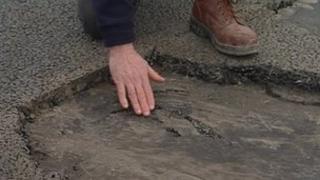 Resurfacing work on Poole's Twin Sails Bridge is under way after repairs were postponed on Monday.
Surfacing and waterproof material has been removed from the structure's steelwork after parts of the surface fell off when raised.
The new £37m lifting bridge linking Poole port and Hamworthy was due to open to traffic on 27 February.
Despite the ongoing delays, Borough of Poole Council is confident of a formal opening in April.
After delays on Monday, builder Hochtief (UK) Construction Ltd made new arrangements with sub-contractors to start the work at 19:30 BST.
The continued warm weather is also expected to ease the delays.
Jim Bright, strategic director of Borough of Poole Council, said: "It should make no difference to plans to open the bridge in early April, subject to the successful completion of the remedial work."
The full opening to road traffic was delayed after parts of the surface broke away from the raised bridge on 11 March.
A celebration day and visit from the Princess Royal went ahead as planned earlier this month while Dorset residents were given the chance to walk across it on 25 February.