Bournemouth Waterfront Imax building to be demolished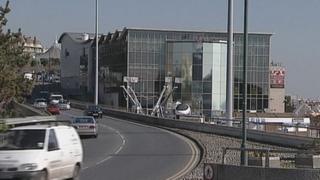 A building that blocks Bournemouth's seafront views will be demolished, the council has confirmed.
The Imax Waterfront building has been described as an eyesore by residents who have campaigned to have it removed.
In 2010 the council bought the leasehold and wanted to lower the building's height to reclaim views, but got "no suitable bids" from developers.
The 10-year-old building, which houses a former Imax cinema and restaurants, will be pulled down after the summer.
The site will be developed into an "open air event space".
3D film problems
Bournemouth Borough Council bought the waterfront building from long-leaseholders Nilgosc for about £7m in 2010.
It will cost another £2m to have it demolished.
The authority had hoped to keep the structure, but to lower it by 25ft (8m) and turn it into an all-weather leisure centre or cultural attraction.
John Beesley, leader of Bournemouth council, said demolition work would not begin until after the holiday season and it was hoped the work would be finished by summer 2013.
The building opened as an Imax cinema in 2002 despite protests from residents against the plans.
It closed in 2005 after having problems showing 3D films.