Bournemouth Airport shut as Sea Vixen jet wheel collapses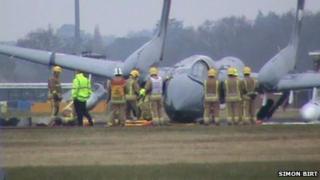 Bournemouth Airport has been closed after a plane's nose wheel collapsed on landing.
The aircraft, a vintage De Havilland Sea Vixen jet, blocked the runway after landing at 16:10 BST.
Eyewitness Simon Birt said he could see the plane "sitting on the intersection of the taxiways surrounded by emergency vehicles".
The pilot was not injured. No commercial flights at the airport were scheduled before 22:00 BST.
They are not expected to be affected.
The military Sea Vixen aircraft flew from aircraft carriers between 1959 and 1972. The Bournemouth-based jet is believed to be the only one of its kind in the world still flying.
It has been taking part in air shows since being restored a decade ago.