John Lennon and Yoko Ono nude photos sell for £700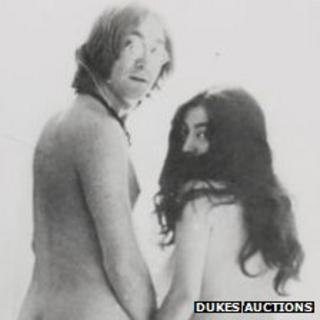 Two rare photographs of John Lennon and Yoko Ono posing naked have been sold at auction for £700.
The images of the pair were found in a loft by a couple clearing an elderly relative's home in Dorset.
The photos, taken by Lennon using a self-timer at Ringo Starr's flat, were part of a series taken for 1968 album Unfinished Music No 1: Two Virgins.
Auctioneer Matthew Denney described the images as "most unusual" as they show more detail than the shots on the LP.
The two pictures show front and rear views of the Beatle and his wife.
They are wider than the one used on the album sleeve and show more clutter around the couple's feet.
Mr Denney said: "The couple who brought them in were as surprised to find them as we were to see them."
When the album went on sale in 1968 the cover proved controversial, with many record shops refusing to stock the record and others selling it in brown paper bags.
The picture were sold by Dukes Auctioneers in Dorchester.