Weymouth cemetery chapel gutted by fire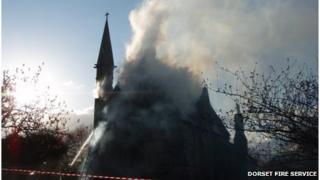 A fire has gutted a chapel at a 19th Century cemetery in Weymouth, the fire service has said.
More than 20 firefighters battled the blaze at the Melcombe Regis Cemetery, off Longcroft Road in Westham, on Wednesday evening.
Initially fire crews feared there was someone inside, but no-one was injured.
A Dorset Fire Service spokeswoman said police were investigating whether someone had deliberately set fire to the building.
The slate roof and the chapel's interior were "gutted" in the blaze which took four hours to extinguish, she said.
The chapel is on the site of the town's oldest surviving cemetery, where many World War II graves can be found.