Job training 'for every young offender' at Dorset institution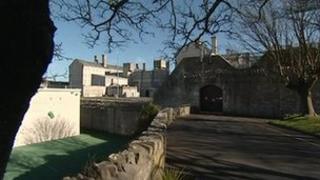 A young offenders' institution in Dorset says it has facilities to enrol every youth in employment training in a bid to stop them re-offending.
Portland said it was enhancing the prospects of offenders by instilling them with a work ethic by offering courses from laying bricks to installing railway lines.
Steve Hodson, deputy governor, is convinced the schemes are effective.
The Howard League for Penal Reform said Portland should be commended as training helps reduce re-offending.
Courses on offer at Portland include equestrian skills, horticulture, faith and emotional wellbeing.
Mr Hodson said: "I'm absolutely convinced that the schemes we offer here are effective and they do work.
"I am sure that we will be able to see in the very near future the results from some of the work we are doing."
It is a view shared by the Howard League for Penal Reform, which said education, training and employment opportunities dramatically reduced re-offending.
'Uncomfortable truth'
Andrew Neilson, director of campaigns at the Howard League, said: "The uncomfortable truth is that most people in jail are not working, studying or doing almost anything constructive with their time and spend all day, every day sitting in their cells.
"Portland should be commended for seeking to change this by offering employment and training opportunities, particularly at a time when many young people are struggling to find work in the community."
Overlooking the Olympic sailing waters on the Jurassic coast, Portland is a far cry from the inner cities some inmates have left behind.
And life inside Portland has evolved dramatically over the years as well.
Matt Shepherd, head of security, said: "Prison life is almost unrecognisable today to the service I joined 20-odd years ago.
"The focus was not on rehabilitation. The choice was between flipping burgers on the minimum wage or dealing crack on the street corner.
"We have to instil a sense of work ethic and combine that with the opportunity to actually get into meaningful employment on release."
One million young people are currently unemployed, but inmates are still confident of saying goodbye to Portland for good.
One inmate, who did not wish to be named, told the BBC: "Here has given me that stepping stone in getting qualifications in maths, English and business, so I think now will be easier (to find work)."
A Ministry of Justice spokeswoman said: "Hard work for offenders is at the heart of our plans to make punishments more rigorous.
"Criminals must be reformed so that when they finish their sentences they do not simply return to crime, creating more misery for victims."
Portland opened in 1848 and held convicted adults until 1921, when it was converted into a borstal.
A young offenders institution since 1988, it now holds young men aged 18 to 21.