Princess Elizabeth locomotive to haul Banbury to Swanage train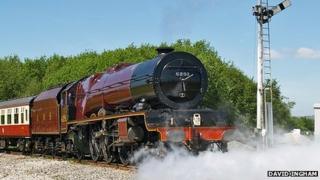 A record-breaking 1930s steam locomotive is making its first trip from Oxfordshire to Dorset.
Princess Elizabeth was named after the then seven-year-old future Queen and is one of only two of its type left.
On Thursday the locomotive will haul a train carrying 500 passengers on a five-hour trip from Banbury to Swanage.
It still holds the record for the longest and fastest steam hauled non-stop passenger train on the west coast main line between London and Glasgow.
Built in 1933, it set the record in 1936 and no other steam locomotive has beaten it since.
Diamond jubilee flotilla
It will be the first time the locomotive has travelled from Banbury and all the way through Dorset to the Isle of Purbeck, Swanage Railway said.
On 3 June, Princess Elizabeth will also take part in the Queen's Diamond Jubilee Thames flotilla.
The locomotive will be standing on London's Chelsea Bridge and sound its whistle to signal the start for the more than 1,000 boats.
The Queen will also be taking part in the fllotilla.
Costing £11,675 to build, the 8P power classification express steam locomotive was one of 13 Princess Royal Class locomotives.
It remains one of only two preserved LMS Stanier Pacific class of steam locomotives.
Thursday's Cathedrals Express service will leave Banbury at 08:30 BST, calling at Oxford, Pangbourne, Reading West, Basingstoke, Winchester, Southampton, Bournemouth, Poole, Wareham and Corfe Castle, to arrive in Swanage at 15:14.
It will begin its return journey to Oxfordshire at 17:00 BST.
Swanage Railway runs many heritage services on its restored railway through Purbeck.
Chairman Peter Sills said: "We're absolutely delighted and very excited to be welcoming such a prestigious, historic and record-breaking steam locomotive to Swanage.
"It's very apt the locomotive, named after Her Majesty the Queen when she was a seven-year-old child in 1933, should be visiting Corfe Castle and Swanage before playing a part in the national celebrations to mark the Queen's Diamond Jubilee."
The locomotive was bound for the scrap yard in 1962 after being withdrawn by British Railways.
But a railway enthusiast bought it from British Railways in 1963 for £2,160 and it was restored to working order by the Princess Elizabeth Locomotive Trust.