Weymouth Eye seafront tower to open ahead of schedule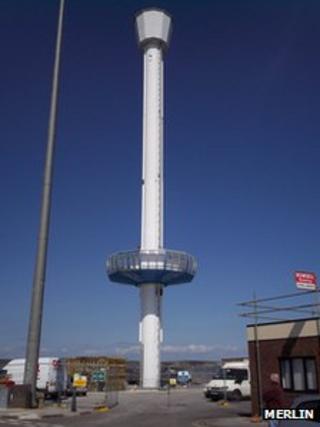 A £3.5m seafront viewing tower on the Dorset coast will open ahead of schedule on 22 June.
The Weymouth Eye was originally earmarked for completion in early July but its viewing gondola has already been assembled and put in place.
The 53m (173ft) tower will be open for the Olympics with views of Weymouth harbour and the Jurassic Coast.
Mark Oakley, of operators Merlin Entertainments, said they were "delighted with the progress".
Good weather
The viewing gondola which will carry 70 people to the top of the structure was assembled on ground level.
The gondola is currently being safety tested, with engineers gradually raising it to the full height of 53m.
Built by Dorset company TG Cruse, work began on the tower in November.
General manager Craig Dunkerley said good weather allowed construction to finish early.
"We're now so close to the finish we have been able to announce an early launch with complete confidence," he said.
More than 200,000 people are expected to visit it in its first year.
Sections of the tower were transported from France and Hungary.
The central steel column was assembled in five sections, each weighing 11 tonnes.
The crown, which was lifted into place in March, also controls the engine which will drive the viewing gondola.
Trips to the top of the tower and back will last between 10 and 20 minutes and cost visitors £8 each.
Weymouth and Portland will host the Olympic sailing events during the 2012 Games.