Purbeck wind farm blows up arguments over renewable energy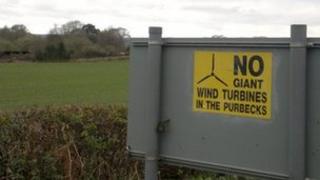 Arguments over the construction of four wind turbines in Dorset have been rumbling on for years.
In December 2010 the Liberal Democrat-led district council of Purbeck voted to approve the Alaska project, subject to conditions.
But by March 2011 their two seat majority had switched to the Conservatives.
This time the planning committee refused the application and it is now subject to a public inquiry.
'Work best'
Although the elections on 3 May cannot change the fate of the wind turbine project, it has highlighted the issue of renewable energy in the area.
Conservative councillor Nick Cake said: "I don't think wind power is the answer for Purbeck because we have a number of nature reserves, it's a popular holiday destination and it's not a high wind area.
"If they were 75% efficient you could consider balancing their impact against their merits, but they are only 25% efficient so I don't see the need to have them.
"Up North they are able to make the best of these types of renewable energy. You have to put them where they work best."
Liberal Democrat councillor Simon Goldsack said groups against renewable projects were very vocal, but often campaigned on flawed facts.
He said: "I don't buy claims that wind farms are inefficient. I accept they don't operate all the time but you don't have to pay for the wind that powers them, which is not the case every time you fire up a coal fired power station.
"I don't think it is fair that people down South should use energy produced up North."
'Waste' energy
The UK plans to generate 15% of its energy from renewable sources by 2020.
Dorset County Council has carried out a consultation which revealed that 80% of respondents felt the county should play an equal part in meeting that target.
In the past it has fallen short of its targets but Pete West, the renewable energy officer at the county council, said it was well on the way to meeting its 2020 aspiration.
He said: "I've done some calculations recently and within 12 months we'll be a quarter of the way there, and that's with the projects that are already in construction."
Although Mr Cake said he was not in favour of many of the land-based projects being developed, he said he wanted to see more investment in renewable energy.
"More money should be spent on systems that generate renewable energy from wave and tidal systems in the sea where we have enormous potential," he said.
'Hiding to nothing'
In contrast Mr Goldsack has been campaigning to include more combined heat and power plants into local area plans. These plants would generate power by burning woodchips.
He also said more money had to be spent on retrofitting houses, adding: "There is no point in creating new renewable energy if we are just going to waste it in inefficient, poorly insulated homes."
However the issue is tackled, there is a consensus that more renewable energy is a good thing.
Mr West said: "If we carry on with business as usual we are on a hiding to nothing.
"We are trying to achieve a consensus to benefit the local people and the economy. If people object to plans in their area they can use the local planning system and it will be determined in the normal way.
"With the wind farm, we'll just have to wait and see what the planning inspector decides."